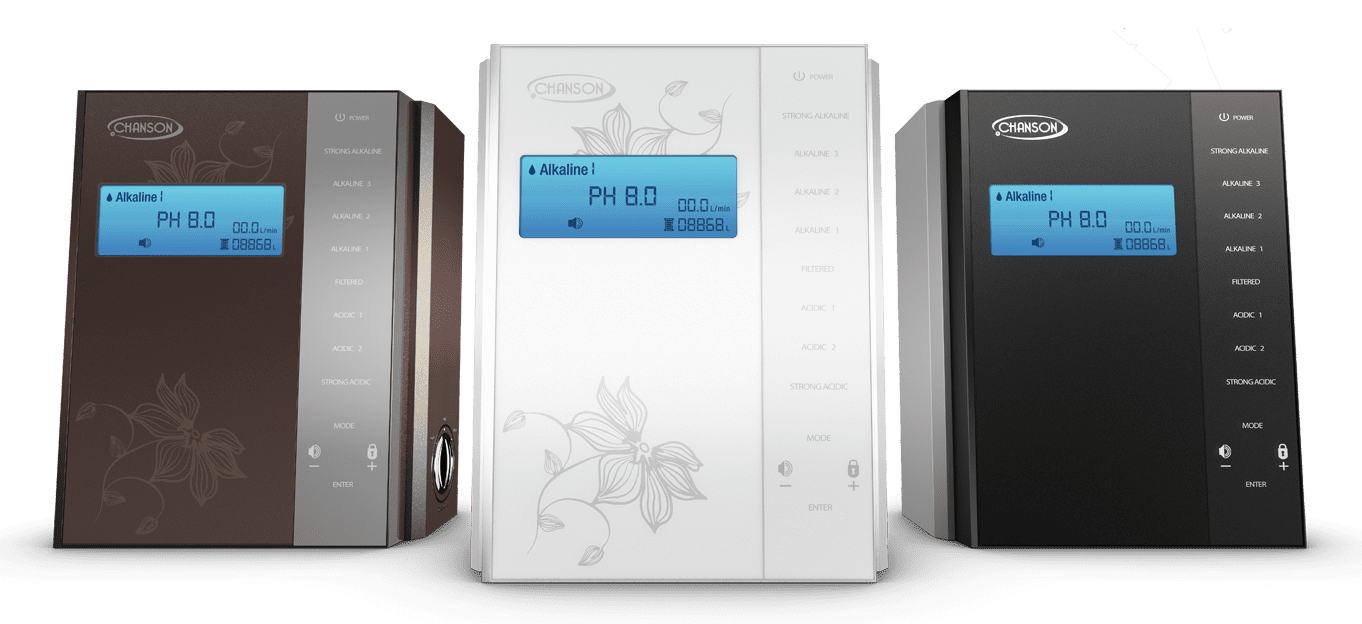 The Chanson Water Ionizer Has Been The Market Leader For The Last 9 Years
Our Chanson Water Ionizers (Chanson Water lifestyle devices) become your very own personal wellness assistant.  It will work for you 24/7, 365 days a week, never complain and never take a sick day. 
Best of all you'll never have to give it written warnings or go through arduous disciplinary hearings. It can give you the necessary building blocks you need to live a truly incredible, one of a kind life.
It took a highly qualified and specialized team of over 400 staff, 19 production lines, 14 warehouses, three factories and two research and development centers which contain ultra modern laboratories more than 25 years to create these masterpieces of engineering and quality.
Why do our competitors guarantee their water ionizer for only 1 year?
Do they know something about their product they are not telling you?
Chanson has been manufacturing the best water ionizers for more than 25 Years now. They have been available in South Africa for more than 9 years. Because of their proven track record, we are able to back these machines with an incredible 5 Year Guarantee. No other manufacturer can do this because the truth is that they have only been selling ionizers for a year at best.
Ever heard that saying you get what you pay for?
Our Chanson Water Machines Are Certified To The Highest Global Standards
They Have Also Been A Global Market Leader For The Last 30+ years
Why You Need A Water Ionizer?
Our Chanson Water Lifestyle Devices offer features and benefits that regular water filtration systems or solutions don't have. Just as the world has changed so has the technology that produces clean drinking water.
The water produced is up to 6x more hydrating
It has anti-aging and anti-oxidant benefits
It helps reduce excess acid build up
It helps to detoxify your body
It can save you money
It can improve your quality of life
How Can I Get This Amazing Water?
What do superstars like Mark Wahlberg, Puff Daddy, Pharell Williams, Tony Robins and Miranda Kerr have in common? They drink alkaline water that is produced by a water ionizer.
Alkaline water is scientifically referred to as electrolyzed reduced water and the key ingredient in the magic sauce is the molecular hydrogen that is produced by the electrolysis process. Experts claim that it is the most effective anti-oxidant in the world and they also say that ionized water is up to 6x more hydrating than "regular" water. Another side benefit is its alkalizing properties that help to reduce excess acid.
We have a range of products that are reliable, effective and incredible value for money. Owning a water ionizer could be the single biggest investment you will ever make in your health. We give our customers 3 different choices when it comes to getting their hands on ionized water. Click here for the latest Chanson Water product catalog.
We manufacture a range of Alkaline Bottled Water sizes. They come in refills, 330ml, 500ml, 1ltr and 5ltr. We also offer custom branded ionized water.
We have chosen only the best products available in our collection of mineral water ionizers. There are a lot of cheap and inferior products that claim to produce ionized water but when tested they only alter the pH. A real mineral based ionizer will produce a negative ORP of at least -150 mV (containing molecular hydrogen). This is by far the most important feature of an ionizer and gives ionized water its anti-inflammatory property which is by far the most health promoting water money can buy. If it doesn't produce a high pH and Negative ORP you are wasting your money. We also have our Designer Water Alkaline Water Jug available.
Between ourselves and the other Chanson agencies across the world, we have tested and compared almost all existing water alkalizers. We can without a doubt confirm that Chanson is the best value for money vs quality and performance ionizers on the market. Even our smallest water ionizer produces strong alkaline and acid water that compares with 9 plate ionizers from other vendors. That is why we only stock one brand and have turned down numerous other agencies. Our commitment is to always offer the best quality products, at the best possible price, with the best possible service. We believe that a Chanson Water Ionizer delivers and over-exceed those commitments. They are also quite possibly the only manufacturer that have 3rd party verified results confirming that their water is micro-clustered water, structured and that their acid water kills germs on contact. The other huge difference is that all our ionizers are able to use Himalayan Rock Salt to produce strong acid and alkaline water. Strong acid and alkaline water are reason enough to invest in your own ionizer without considering the drinking water benefits.